Conversions. That's the main point of your transactional emails campaigns, right? So if you want better results you need to consider using different sales pitches on your email marketing strategy.
Cross-selling and up-selling are marketing techniques that can definitely improve your conversion and retention rates. And higher conversion rates means more ROI. But how to proper use these methods on your transactional emails? After all, there is much more to it than just adding extra offers on your emails! You do have to follow a few rules to not push your customer away.
Let's check our table of contents:
If you ever bought anything online, whether is a product or service you probably have received an email with an"upgrade your product" offer, "similar products" offers, or the usual "customers that bought this also bought that" offer! This not so sutil sales stra is called up-selling and cross-selling.
Although it may seem pretty simple, you do have to keep your eyes open when creating cross-sells and up-sells offers. You need to be relevant at all times! Imagine receiving an email with an offer for a product that you already own or offers to products that are not relevant for you? That's not only annoying but also can be considered an amateur mistake.
And you so don't want do that, would you? Cross-sells and up-sells count for more than30% of eCommerce revenue.
Cross-selling is when the company offers a similar or other products (or services) to the customers. For example. Let's suppose you have bought a computer and you received an offer with suggestions of mouses, pendrives and any sort of accessories that can go with your purchase. This is a good example of how cross-selling works. Note that usually lower-prices products are offered. We will explain it later why.
Cross-selling is about raising the awareness about similar products. To effectively do that you need to understand your customers' behaviors.
Up-selling is when you receive an offer to upgrade your purchase. The whole point is to make your customers spend more money than they would originally do. In the computer case, for example, the company would probably offer you better and more expensive configurations of your product. When thinking of B2B companies, up-selling is offering more complete versions of a software for example, with more and better features.
Upselling is successful when the offer hits the customer's needs at the right time. Think of offering products or services that add value and improve your customer's life.
Whether you are working with cross-selling or up-selling try not to create aggressive campaigns. Subtlety is the key to gain your customer's attention. And it doesn't really matter if your are work with e-commerce websites or subscription and service based websites. These techniques are beneficial for almost any kind of business. Just bear in mind that up-selling actually performs better than cross-selling, in fact 20 times better.
60% of customers who've committed to a sale will make another last-minute purchase when offered
When up-selling follow a few rules:
Offer your most reviewed products: if your product have a great amount of good reviews it's much easier to convince other customers that it worths its value.

Offer your most sold products: again, if it's already a sales success you know you can easily keep selling it, improve its media distribution in order to reach new customers.

Offer the most logical related products to your customer's purchase. I believe this is self explanatory. If your customer bought a phone for example, surely they need a case, earplugs and so on.
We know (and we've told) that the goal of cross-selling and up-selling to increase revenue but don't underestimate customer experience. Choose offers that make sense to your customers at the right point of the purchase lifecycle. Relevant offers improve your chances to get higher click-through and conversions rates.
So you already know you should include cross-selling and up-selling offers in your transactional emails but why do so little marketing professional invest in this strategy? A study found out that only one in five transactional emails included promotional offers within purchase confirmation notices, for example.
This is clearly a missed opportunity. Since your customers have just made a purchase and are probably thinking favorably about your company the email confirmation notice is an excellent opportunity to up-sell and cross-sell.
We said many times before: the power of transactional emails are undeniable. You customer do want to open your email. Just check the data: the average click-through rate of a transactional email is over 300% better than the regular email marketing. 60% of the marketing professionals that have experimented transactional emails say that they had an increased revenue. So think of cross-sell and up-sell as the next-sell. If your customers had a good experience in your website the chances are that they'll come back for more.
There is no limit to which types of transactional emails you can add cross-sell and up -sell offers, but researches have shown that some offers performs better in some types of emails than others. Transactional emails that include cross-sell items have 20% higher transaction rates than those without.
Order and Shipping confirmations: customers are eager to receive their shipping confirmation emails, so this is a great opportunity to include cross-sell offers. Include relevant images and information of related products and services in your email.

You can introduce a new category of products or services to your customers just by offering free trials, for example.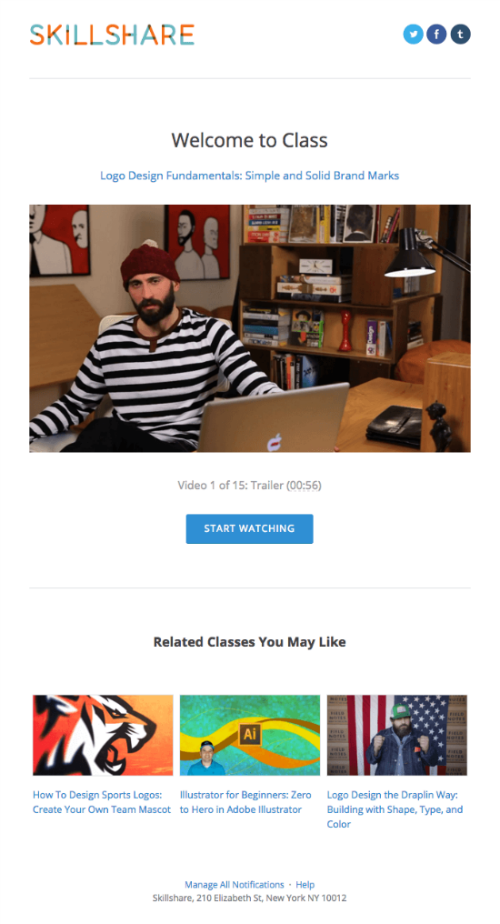 Thank you emails: you know that thank you emails are more than necessary they are a rule that you need to follow. So why not taking the opportunity to offer some extra products?
Shopping Cart abandonment emails: your customers have browsed through your site, considered purchasing something but for some whatever reason have given up. This is a great opportunity to send drip campaigns with discounts to convince the customers to go back to your website and finalize the purchase. You can also use this chance to persuade your customer to take advantage of an up-sell offer, just create a series of emails that culminate in a last-chance discount.
Customers usually do appreciate the right cross-selling and upselling offers. In fact, it can increase your customers retention as they find more value in your brand. The result: they will come back for more. An average ecommerce gets 43% of their revenue from repeated purchases. Up-sells and cross -sells also boost your customer lifetime value. A Marketing Metric study reports that the probability of selling to an existing customer is 50% higher than selling to a new prospect.
In order to make the most of your strategy there a few dos and dont's that can help you maximize your chances of recurrent sales.
Choose the right time: you need to know when to send the offers. Like we mentioned before, send shopping receipts, shipping confirmations and shopping cart abandonment to show your customers that you understand their needs and can them solve their problems. Be sutil and take care to not over do it. It may damage the customers perception of your brand and even hurt your conversions.
Stay relevant: offers products or services that your customers are already familiar with. Analyze past purchases and behavior to keep your offers relevant. 82% of people said that they would purchase more products through email if those emails were personalized around their preferences.
Don't offer too many offers: Stay focused. Don't overwhelm your customers with too many choices. If they've already said no to an upsell product, for example, do not push for it. Studies prove that too many options can discourage your customers. You customer may as well give up from choosing whatsoever. Give 2 or 3 options max.
Do more than just sales: although your are dealing with sales you do not need to aggressive and can in fact offer more than just an offer. What about adding some powerful information of your product or service? This is particularly helpful if you are B2B company. Answer questions that help your customers through the decision-making process. This builds trust and foster engagement.
Add user-generated content: UGC makes your company trustworthy. Add products and services reviews on your emails and drive more conversions. Customers are usually insecure about return policies, product's quality and so on, so do provide useful and real testimonials to increase your brand's value.
Take advantage of customer behaviour: are you keeping track of your customer's behavior? Which products they've searching or purchasing? Are they reviewing your products? Are you getting good or bad reviews? You need to know and analyze data to better succeed with cross-selling and up-selling.
Take advantage of customer behaviour: are you keeping track of your customer's behavior? Which products they've searching or purchasing? Are they reviewing your products? Are you getting good or bad reviews? You need to know and analyze data to better succeed with cross-selling and up-selling.
Price matters: When up-selling and cross-selling try to offer products or services that have similar prices from the ones that your customer has already bought or searched for. Avoid suggesting products that increase the overall order by more than 25 per cent.
Use A/B test: create different versions of your emails with different offers and send to a selected group of customers. Analyse the results and build your strategy around the data you acquire.
Relevant cross-sell and up-sell offers at the right time and based on customer behaviour is the perfect recipe for increasing your revenue and customer lifetime value. Use the right data, personalize your email and automate your campaigns and just wait for the results. I'm pretty sure that your customers will appreciate the time and effort that you've put into selecting products or services that are truly relevant for them.